Heat Treatment for Cast Products at Eagle Alloy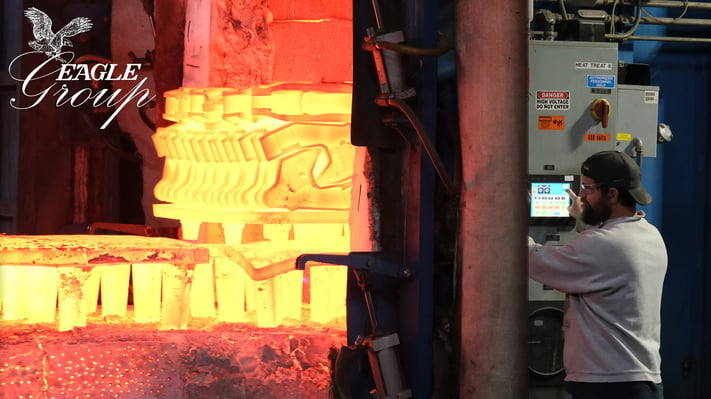 Eagle Alloy provides a wide range of metalcasting services. In addition to casting hundreds of alloy grades that can be formed into virtually any castable shape, our foundry is fully equipped to heat treat the majority of parts we manufacture. In this blog, we'll be opening the doors to our heat treatment facilities. You'll get to know what kind of heat treat equipment we utilize to deliver superior products that consistently meet performance expectations.
Casting a part into its required shape does not fully prepare it for a life of service – only heat treatment can ensure a part performs exactly how it should. With the exception of a handful of nickel-based specialty alloys, Eagle Alloy heat treats just about every part that is cast in our facilities. From annealing and normalizing to stress relieving and quenching, we have the furnaces, quench tanks, data and expertise to take a product from inception to delivery.
History of In-House Heat Treatment at Eagle Alloy
Eagle Alloy's goal is to provide concept-to-completion manufacturing for cast parts—especially steel and stainless steel castings. Over the years, this strategy has driven us to build a first-class foundry that's nearly self-sufficient in terms of heat treatment: we heat treat ~95% of the parts we cast. But our heat treatment capabilities didn't appear overnight: as we learned more about our customers' needs and gained knowledge and experience in the area of heat treatment, we gradually built and customized our heat treat facilities.
Car Bottom Heat Treat Furnaces
Throughout recent decades, the Eagle Group has been gradually adding heat treatment machinery to our facilities list. We started with heat treatment furnaces known as "car bottom" furnaces. A car-bottom furnace's design follows a very simple but effective concept: an industrial-sized drawer pulls out of the furnace. With larger parts, we simply drop them onto the drawer, close the oven, and off we go. Smaller and more intricate parts are arranged on heat-resistant nickel-alloy racks then slid into the oven. Because most of our parts are uniquely designed, our nickel-alloy racks get a lot of use.
Once the oven door is closed, we set the parameters for each unique heat treat. Generally, the thickest section size of a workpiece determines the duration of a heat treatment – we need to be sure that even the thickest cross-sections spend enough time above the critical temperature for the necessary atomic movement to occur. As such, numerous batches are being simultaneously heat treated according to their unique temperature and time requirements.
We continue to use car bottom furnaces because their design caters to the handling of unusually shaped pieces (like complex cast parts), and they can be loaded with multiple batches at the same time.
Eagle Alloy currently employs five car-bottom furnaces in our heat treat department.
Positive Air Heat Treat Furnaces
Several years ago, we added 4 new furnaces. Furnaces 6-9 are positive-air heat treat furnaces manufactured by HTF. These low-oxygen furnaces are highly energy efficient: they work by maintaining a higher pressure atmosphere inside the furnace body than outside. This design principle leverages a concept called 'positive airflow,' which keeps the hot air inside the furnace protected against the cold air outside the furnace. The result is less energy consumption to run ovens up and maintain them at the necessary temperature.
Our furnace #9 is in a league of its own: directly wired to a natural gas outlet, this cutting-edge furnace is compliant with the American Petroleum Institute's Advanced System Management standards – a strong example of our lean and green manufacturing ethos.
Each of our nine furnaces can accommodate three nickel-alloy racks, meaning 27 individual loads in the ovens at any one time. It might seem like a gargantuan task to simultaneously oversee 27 different loads AND ensure they are getting the treatment they require. Fortunately, we also leverage mechanization, digitalization and data to effectively manage our heat treatment operations.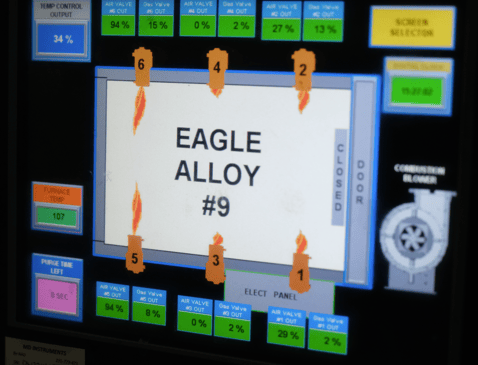 Heat treat station PLC
Eagle Alloy's Integrated Data and Control Systems for Heat Treatment
"Whenever we're running a furnace, it's recording the PLC output, including the temperature for each oven throughout the entire cycle. I can take any of this time-series data and graph it for an electronic certification. The whole thing is mechanized and eliminates any recording problems caused by human error."
Jason Bergman, Eagle Alloy's Quality Manager and Metallurgist, loves showing students and customers around the heat treat wings, introducing them to our specialized heat treat operators and our line-up of active furnaces. "We've simplified the whole system so any of our operators can walk up and down the floor and monitor the heat treat displays on all nine furnaces: what's at temperature, what's below temperature, and what's above."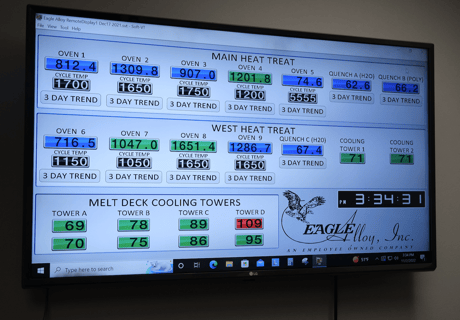 Master heat treat monitor
Quench Tanks
As long as we've had furnaces 1-5, our two original quench tanks have been integral parts of the heat-treat system. Able to accommodate both water and polymer solutions, our original tanks provide enough quench severity to treat most small and medium-sized parts. Around the same time we added furnaces 6-9, we also had the opportunity to add a bigger quench tank capable of delivering superior quench severity, especially to larger-section carbon and higher-alloyed steels.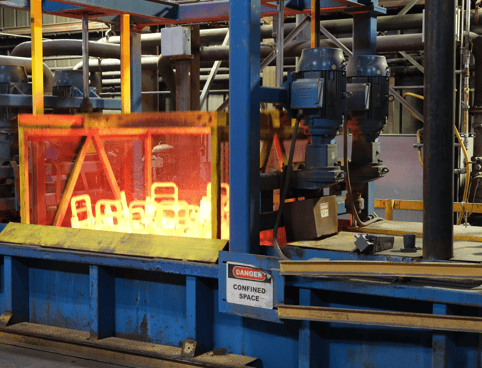 Heated parts being lowered into quench tank
The introduction of a bigger quench tank helped us to close the gap between what we could and could not do in-house. Prior to the inclusion of furnaces 6-9 and the enhancement of our quench severity, Eagle Alloy was heat treating ~80% of parts in house. Compare that with the 95% we do today, given the volume we handle, and that is a huge win for us and our customers.
Our quench tanks are settled on platforms alongside cooling towers on our melting decks. Eagle Alloy's heat treat operators are overseeing each oven's activity around the clock. They're also responsible for ensuring quench tanks are available when treated parts need to be cooled quickly after coming out of the furnace. "Essentially, our operators are responsible for making sure our orders get pulled through the system smoothly," Bergman says. "Scheduling, setting the furnaces to temperature, monitoring them, and streamlining workflow between heating, cooling, and quenching. Between our metallurgists and heat treatment staff, we've got all the bases covered to run dozens of loads and give every batch the treatment it needs."
But how exactly do our customers benefit from a lean, one-stop-shop metalcasting foundry like Eagle Alloy?
Benefits of In-House Heat Treatment
Today, Eagle Alloy is heat treating ~95% of cast parts in-house. To a manufacturer, the advantages of this holistic service might be obvious: cost savings, time savings and a deal-winning value proposition. Customers derive real benefit from knowing they can expect shorter lead times, higher attention to detail, lower costs and more certainty.
With all manufacturing sites adjacent to one another, lead times are optimized thanks to a workflow that's physically and spatially streamlined. According to Bergman, "If we poured it on Monday, it goes through lean on Tuesday. It usually goes through heat-treat on Wednesday, and it's in a box Thursday." Having the in-house heat treatment facilities also allows Eagle Alloy staff to quickly identify bottlenecks or other issues. This attention to detail is why our customers trust the Eagle Group to deliver consistent results on predictable timelines.
What sets Eagle Alloy apart from many foundries is the sheer breadth of active part numbers we are pouring: nearly 1700 of them. This is a significantly broader product offering than the average foundry, and our diversity is our strength. But this large variety of part numbers also means we have to outsource some castings for specialty heat treatment: when you're pouring so many different parts, it's very difficult to keep every single aspect of material processing under one roof.
Luckily, just as long as we have been operating, we have been building trusted partnerships with the Midwest's premier heat treatment specialists. Eagle Alloy, Eagle Precision, and Eagle CNC work with Hansen/Balk Steel Treating Company and State Heat Treating Company, both of which are premier heat treating experts located in Western Michigan. In our years of partnership, we've built strong and reliable relationships. After all, we're also neighbors. And being located only a few dozen miles apart, our supply chain is direct and dependable: we can truck material over in less than an hour.
Having all sites in proximity also means controlling variables like transportation costs and delays. In the past few years manufacturing supply chains have undergone significant restructuring. The nature of complex systems like supply chains is that they are full of unexpected events – road closures, weather, changing regulations and more. By providing customers with a full-service manufacturing solution for raw and machined cast parts, the Eagle Group maximizes certainty that an order is filled on schedule.
How Heat Treatment Helps Make Eagle Alloy a Unique Foundry
Eagle Alloy's strategies of constant improvement and lean manufacturing leads us to find better, more efficient ways of producing cast parts. In the case of heat treatment, that means doing as much of the work as we can ourselves.
Eagle Alloy's facilities are open to public viewing by appointment. We've even built a dedicated education center to welcome customers (future and present) and students alike. If you can make it in, our staff would welcome the opportunity to show you how shell molding works at Eagle Alloy. Our staff of expert metallurgists even organize Heat Treatment 101 seminars. If you're curious to learn more about the science and practice of these special thermal processes, reach out to us to schedule an informational session.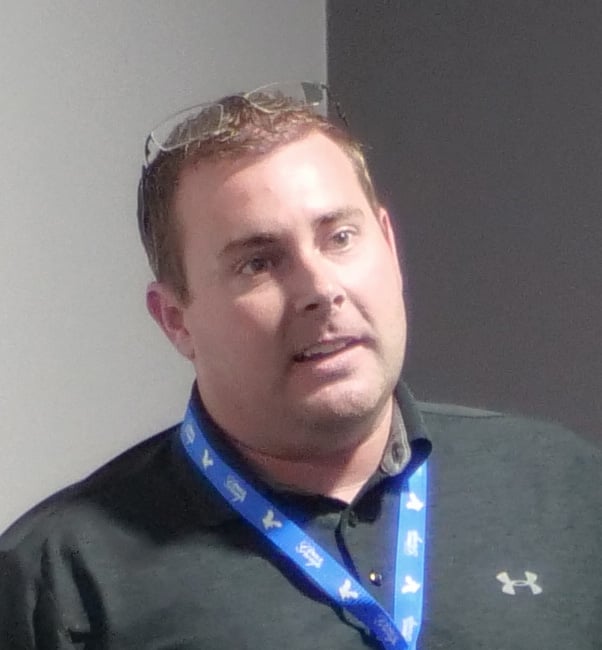 Written by Nic Tarzwell
Nic Tarzwell is Chief Technical Officer at Eagle Alloy, Inc. He has been with the company since 2007.
Subscribe to Email Updates