Keeping Castings Made in America: Supporting the American Foundry Industry through Entrepreneurship

The Eagle Group is a team of manufacturing companies based in Muskegon, MI, made up of three foundries and a machine shop. Eagle Alloy, Eagle Aluminum, Eagle Precision and Eagle CNC are connected through common ownership and through common goals: while each company occupies its own niche, they often work together to provide "concept to completion" manufacturing. Beyond these four companies, Eagle Group's owners also have stakes in OEM companies that utilize the Eagle Group's services, but occupy altogether different spaces in the manufacturing world.
These companies are Muskegon Tools, Bullseye Power and Hydrant Guard. Muskegon Tools produces safety equipment for the oil and gas industry, preventing injuries from falling tools. Bullseye Power is an innovator in the turbo charger market, offering performance-enhancing products for drag racers and long-haul truckers. Hydrant Guard, the newest of the three companies, provides elegant solutions to water loss from broken fire hydrants.
The inception of these enterprises wasn't merely for diversification; it was a strategic maneuver to ensure that foundry work remains domestic. At its core, The Eagle Group is committed to bolstering West Michigan manufacturing and uplifting the entire American metalcasting industry. By fostering businesses that prioritize American-made castings and machined parts, we aim to contribute consistently to the community. Having weathered the ebbs and flows of the industry, with the backing of these OEM ventures, The Eagle Group is poised not only to endure but to thrive in the Michigan manufacturing landscape.
The Drive to Support American Metalcasting
"I first got involved in the foundry industry in 1975," says Eagle Alloy co-founder and co-chairman of the board, Mark Fazakerley. "Those were strong years for the steel casting industry." The late 1970s indeed represented a significant chapter for US steel casting, with production figures nearing their zenith. Spotting a promising opportunity, Fazakerley and his associate, Wayne Jarvis, embarked on the venture of establishing a steel foundry in Muskegon, leading to the inception of Eagle Alloy.
However, this promising start was overshadowed by subsequent industry challenges. "Unfortunately, we started in 1979," Fazakerley recalls. "In 1980 the steel industry in the United States collapsed and it cut back by 50%." By 1982, offshoring began to take root, with nations like China, Japan, and Brazil "very aggressive in soliciting major manufacturers in the USA to have their steel castings made overseas."
To put things in perspective, the US produced nearly 2 million tons of ferrous castings in 1978. By 1985, that number was less than half, according to a 1992 census by FOUNDRY Management and Technology Magazine. Eagle Alloy, even in its first years, managed to weather the storm and stay afloat through the worst years, but challenges continued even as the industry stabilized.
A number of large American manufacturing companies were resistant to the idea of going overseas, often because language barriers and conflicting standards made design and prototyping difficult. Eagle Alloy was (and still is) a design-capable casting facility, and many customers depended on them to finalize designs, build a production pattern, prototype the product and go into production. "Then in one or two years," Mark says, "they would move that work overseas." Given this trend, securing long-term partnerships became an uphill battle for Eagle Alloy. As a response, the company remained vigilant, always scouting for projects that would remain domestic and, ideally, within the Eagle Group's purview.
Muskegon Tools LLC: Safety Tools for Oil & Gas Workers

The first opportunity came almost by accident during conversation with an engineer working as a valve industry consultant in Houston. The engineer let Mark Fazakerley know about an idea he had to improve efficiency for oil-rig workers. He had a patent for the idea, but no manufacturing capabilities. Recognizing its potential, Eagle Alloy's leaders teamed up with him, resulting in the creation of Muskegon Tools LLC.
Their flagship product, "The Piper", was borne out of this partnership. As its inventor, Mike Coffey, originally stated, "The purpose of this invention is to assist a worker when tightening and loosening a fastener. The Piper in most cases eliminates the need for a backup wrench or a second worker. The tool allows access to confined spaces where standard tools will not fit." An added advantage of this tool is the enhancement of workplace safety. One significant hazard in the oil and gas sector is falling tools; The Piper provides a portable attaching point, thereby preventing such accidents.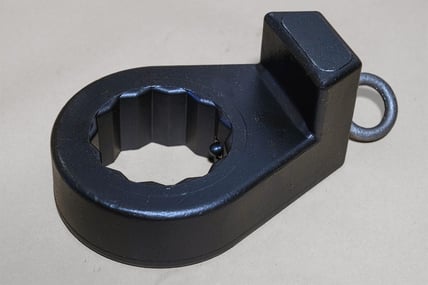 In alignment with the ambition to keep casting local, the majority of The Piper is crafted from a single shell-mold casting. While it incorporates other elements like a safety chain, a screw, and a ball detent, the predominant material by weight is a steel casting, sourced from Eagle Precision's investment casting foundry. Customers can choose from 18 sizes of The Piper, suitable for bolts ranging from .88" to 5.38".
While Texas stands as The Piper's primary market, its footprint is expanding. Beyond the Lone Star state, The Piper has garnered attention in other oil-rich U.S. regions, as well as in Canada and Europe. And now, there's a burgeoning demand from Asia. Every stage of production and distribution—from manufacturing to assembly and inventory—unfolds at the Eagle Precision facility in Muskegon.
For more information about The Piper and Muskegon Tools, visit them on the web.
Bullseye Power: Groundbreaking Turbocharger Technology

Bolstered by the success of the Muskegon Tools partnership, Eagle Group leadership saw a similar opportunity in Bullseye Power just a few years later.
In the early 2000s, Dave Hall owned a performance shop in Florida, where much of his work went into outfitting small imported cars, like the Mitsubishi Eclipse/ Eagle Talon, to maximize speed in semi-pro drag races. An active racer himself, Dave recognized a market need from his firsthand experience. Racers sought aftermarket turbochargers that could maximize horsepower yet remain durable, user-friendly, and economically priced. Dave and his business partners had an idea for a stainless steel-cast turbo that could add 600 horsepower while lasting for years without causing the exhaust housing to crack or rust.
However, they quickly found that a stainless steel casting in the complex spiral shape of a turbocharger was no easy product to manufacture. After speaking to several foundries, they finally got ahold of Mark Fazakerley and John Workman of the Eagle Group. Mark and John were intrigued by the product, which by all records had never been made before as a casting. They believed they had the capabilities to do it, but the price point was too high for the market to bear. Not to be deterred, Mark and John proposed forming a partnership where they could reduce margins on castings in exchange for a percentage of retail profits. Dave and his associate agreed, and they set up Bullseye Power LLC as a four-way partnership.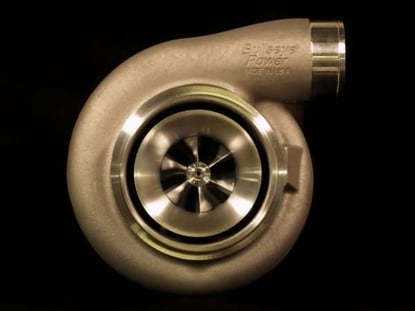 In the 20 years that followed, the company has come a long way from its original product offering. According to co-founder Dave Hall, "By the time we got the casting off the ground, there were already other companies out there with a similar product. They quickly switched over to stainless, and China figured it out, and we had a lot of competition. We had to really branch out, expand the turbo product line and get into different diesel markets." Presently, Bullseye Power boasts a diverse product portfolio, encompassing turbochargers, manifolds, compressor covers, and an assortment of related accessories.
Bullseye Power has also branched into the trucking sector, where their products improve big rigs' efficiency and longevity. "Our technology has advanced the turbo quite a bit as far as airflow versus size," Dave says. "Since our turbo produces more air without having to run a bigger turbo, the truck drives a lot nicer, it makes more power, it gets better fuel economy." One challenge for the trucking industry is longevity, with truck engines expected to perform for half a million miles (or more). It wasn't easy, but Bullseye Power managed to create a turbo that has that kind of lasting potential. They even have a titanium version that costs more up-front, but provides incomparable peace of mind in terms of strength and durability.
The company is still a four-way partnership, with ownership shared between Mark Fazakerley and John Workman of the Eagle Group, and Dave Hall and Bill Devine on the Bullseye side. Dave and Bill manage sales, marketing and inventory, and they work directly with Eagle Group companies for casting. Eagle Aluminum makes the company's compressor covers, Eagle Alloy makes stainless steel hot housings, and Eagle Precision makes wastegate components. In the past Eagle CNC provided machining services, but Bullseye has since moved that work in-house.
Bullseye's innovative products can be found in cars and trucks all over the country, and not least of all in co-owner Bill Devine's own competition cars. He's easy to spot in his NLX-boosted 3000+ HP Small Block Ford, outfitted with Bullseye turbos under the hood and Bullseye decals across the body.
For more information about Bullseye Power, visit them on the web.
Hydrant Guard: An Elegant Solution to Water Loss from Broken Fire Hydrants

Hydrant Guard, or HydrantGuard LLC, is a relatively new partnership formed between the inventor of the Hydrant Guard breakaway check valve and four Eagle Group representatives.
Mel Plummer isn't just any engineer. His multifaceted career spans product development, education, construction, and inspection. After observing the persistent issue of water loss from broken hydrants in warm-weather states like California and Hawaii, he engineered the Hydrant Guard. The states in question employ wet-barrel hydrants, constantly charged with high-pressure water. A collision, commonly with a vehicle, can turn these hydrants into water spewing geysers. The aftermath is almost always water loss, property damage, and potential hazards for locals.
Enter the Hydrant Guard valve, a seamless blend of simplicity and efficiency. It permits almost full flow during regular hydrant operations but quickly shuts off when a break occurs, eliminating the dreaded water geyser.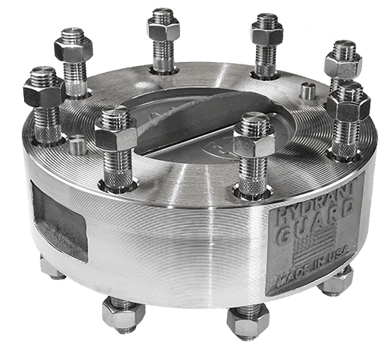 Mel developed his idea for years while shopping for the right manufacturer. Finally, he came into contact with the Eagle Group, and eventually they formed a partnership along similar lines to those of Muskegon Tools and Bullseye Power. In this case, Nik Seyferth and his company, Eagle CNC, handles the bulk of prototyping and manufacturing work, while Mel works closely to consult on design adjustments. Jesse Anderson, a San Diego-based sales maestro, jumped onboard early, guiding the company through the intricate maze of water industry sales. HydrantGuard LLC was formed in 2016, and they brought their first product, HG1, to market in 2019.
Since then, HydrantGuard LLC has steadily gained market share despite several more established companies offering competing check valves. Customers love the Hydrant Guard for its ease of installation and its effective protection. According to Gabriel Gomez, Operations Manager at Liberty Utilities in California, "You wouldn't think that little check valve does so much work, but it works really well. Then the big thing is that we don't have the complicated process when one is hit. We just typically have to replace a few bolts. For us, it works really well."
Customers also love the clean stainless steel sheen of Hydrant Guard valves, but the material is more about function than appearance. The stainless steel alloy used to cast Hydrant Guard products possesses the needed properties to make the overall design possible. It's also an NSF-listed alloy, making NSF approval for water industry components much simpler. Finally, the decision to use stainless steel means that Hydrant Guard valves can be produced entirely by Eagle Group companies. Eagle Alloy casts the valve bodies using shell mold casting; Eagle Precision casts valve plates using investment casting; and Eagle CNC machines all parts to completion. Eagle CNC also laser-etches product markings and handles packaging, inventory and shipping.
HydrantGuard LLC has diversified its product offerings in response to feedback from the water industry. The original HG1 check valve is a lower-profile option, while the newer HG2 check valve is slightly higher profile but can also handle higher water pressures. The company is currently developing the HG3, which is projected for release in 2024 and aims to solve additional problems related to hydrant shears and water infrastructure.
Hydrant Guard is a product line that showcases the talents of the entire Eagle Group: metalcasting, CNC machining and product development. "It's been very rewarding," Mark Fazakerley says of working with Hydrant Guard. "It's cool that we're bringing new technology to a very, very old industry."
For more information about Hydrant Guard, visit them on the web.
More Than Just Business as Usual
These three companies achieve the vital goals of supporting Eagle Group casting companies and keeping that work within the United States. But they are much more than just extensions of the Eagle Group. All three ventures have proven to hold their own value, both as profitable businesses and as innovative companies driving progress in their respective industries.
Consider the advancements of Muskegon Tools: Their pioneering safety solutions for the oil and gas sectors have become benchmarks, pushing competitors to elevate safety protocols, thus enhancing industry standards as a whole. Similarly, Bullseye Power didn't just invent the steel-cast turbocharger – they continue to revolutionize it, marking significant strides not only in the racing domain but in paving the path for a more sustainable and dependable trucking industry. Hydrant Guard's offerings don't just streamline tasks for water professionals; they also hint at a brighter future where water conservation is a priority, particularly in drought-prone regions.
The Eagle Group is proud to manufacture raw and machined cast parts for a wide variety of companies representing agriculture, energy, construction, transportation and many more. Muskegon Tools, Bullseye Power and Hydrant Guard give us the opportunity to take an even more hands-on role, pushing forward within vital and exciting industries. In embracing local manufacturing, we're not merely enhancing our business model; we're planting deeper seeds of commitment and loyalty to our community and nation at large. The Eagle Group's pledge to American Manufacturing isn't just a chapter in our story—it's the very backbone of our enduring vision.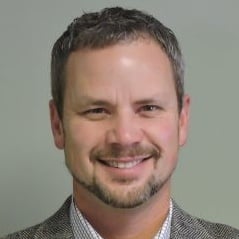 Written by Jeff Cook
Jeff Cook is Chief Sales and Marketing Officer for Eagle Alloy in Muskegon, MI. While enlisted in the Marine Corps Reserves, he began working at Eagle Alloy in 1986 as a snag grinder on 3rd shift after his father told him to "Get a job!" Jeff is past President of the American Foundry Society. His passions include educating young people on the careers and advancement available in the metalcasting industry.
Subscribe to Email Updates